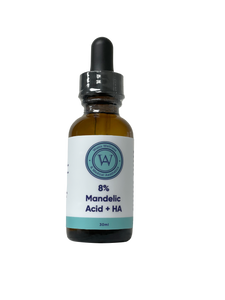 Mandelic acid exfoliates the skin by accelerating cell turnover, which in turn improves the overall texture and tone of skin.
If your skin is dull and has a rough texture, it will help to smooth the surface and brighten your complexion - all while fighting off fine lines and wrinkles. 
Directions: Apply 2-3 times a week post-cleansing and leave on for twenty minutes before moisturizing, as this will allow for proper penetration.
Ingredients: Water, Sodium Hyaluronate, Mandelic Acid, Lactic Acid, Niacinamide