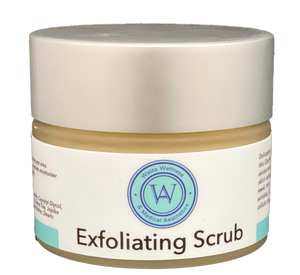 Delicately reveal your skin's glowing layers using this clarifying scrub. This scrub softly lifts away excess surface cells and dull, dry skin to improve the skin's texture and appearance. Utilized 2-3x per week, this scrub helps soften fine lines and wrinkles, lighten skin discoloration, and promote cellular regeneration. 
Directions: Massage gently in circular motions, avoiding eye area. Rinse thoroughly, following with an appropriate moisturizer for skin type. Use one to two times weekly.
Active Ingredients: Aluminum Silica, Caprylic/Capric Triglyceride, Caprylyl Glycol, CoenzymeQ10, Glycerin, Grape Seed Oil, Green Tea, Jojoba Oil, Phenoxyethanol, Purified Water, Shea Butter, Stearic Acid, Tocopheryl (Vitamin E), Vitamin C.